I'm not breaking any new ground by stating that teaching can be a stressful occupation.
A major study currently underway at the University of Houston follows
middle school teachers for three years to learn more about teacher
stress. It's the first longitudinal study of its kind to explore the predictors and outcomes of teacher stress. One
of the goals of the study is to provide school leaders and
administrators with information to help them develop strategies to lower
teacher stress.
Most tips and advice to teachers for addressing this issue focus on what
individuals can do-not take things personally, exercise, eat
healthfully, and so on. But the
climate and organization of the school-elements teachers may have little
control over-have a big influence on teachers' stress.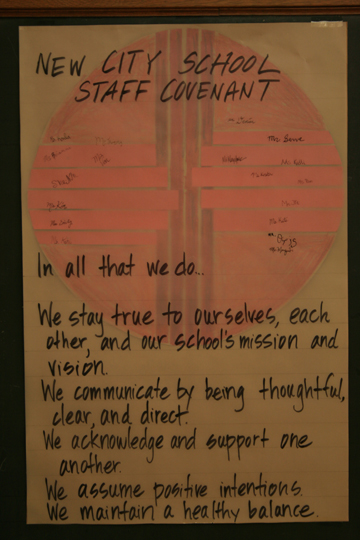 Posting the staff's goals is a visual
reminder of the respectful working
environment you all strive to create.
I taught at New City School, a Minneapolis charter school that fully implements the Developmental Designs approach. The adult community there had a positive impact on my stress and overall health.
At staff meetings, we used the components of the CPR meeting to make sure the meetings were both fun and productive.
I left the meetings feeling heard, informed, and relaxed because I had
shared and played with my colleagues, in addition to learning important
information and making collaborative decisions.
At schools where I had taught previously, I often ate lunch in my
room, isolated and multi-tasking, because I didn't feel comfortable in
the teachers' lounge where gossip and complaining were common. The teachers' lounge at New City was a place of high integrity, free of gossip and griping. Over lunch, we caught up on each other's news, shared snapshots and vacation plans, and so on.
If the conversation turned to school topics, our community agreements (see inset) reminded us to keep the talk constructive.
I discovered that when relationships and conversation were positive
and respectful, using lunch time to connect with colleagues was a
stress-reducer.
Even before the study results are published, schools can implement Developmental Designs classroom structures and principles to promote a happy, relaxed, learning-productive environment for their adult communities as well as for students.
Erin Klug taught intermediate and middle grades in Minneapolis for more than a
decade before taking a position as Professional Development Specialist
and Consultant for The Origins Program.
Posted September 2013

Read more posts from the Developmental Designs blog.