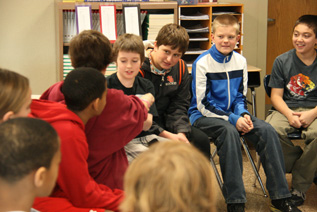 During the
first quarter of this past year,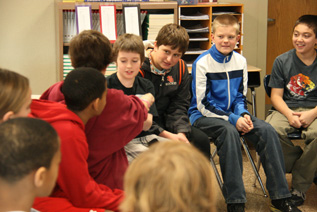 my goal for one of my seventh grade classes
was to improve our whole-group conversations. I could see in early September
that they were my chattiest group, not accustomed to raising hands and waiting to
speak: they just let it fly! To better manage conversations, I taught students
structures for participating. The structures helped students stay focused about
how they spoke instead of becoming sloppy or unmannerly.
Tip to Try
List all the ways

to manage conversations,
and display it where everyone can see it. Every time
you model and they learn a new conversation- management method, highlight it on
your list. This shows students
how many skills they've learned, while acting
as
a handy reference
for you.
Foundation is in place
I was confident that I
could tackle this challenge.
The Developmental Designs approach has been in place
in our school and in my classroom for
many years, so my
students were already familiar with modeling, take a break,

the Circle of Power and Respect advisory meeting, creating rules, and more. Each
week, I taught a new way to participate in whole-group conversations that would
fit well with something
I was teaching. When we were reading a story aloud, I
taught the strategies Cold Call with Phone a Friend and Pulling Sticks.
We used Talking Piece during circle seating class discussions.
Conversation management tools
curbed interruptions

During two whole-group
conversations discussing a piece of literature, I kept track of interruptions.
Standard hand-raising
September 15
27 interruptions in 15 minutes
Talking Piece
November 9
5 interruptions in 15 minutes
At first,
I was driven to tamp down on the interruptions, which often came from
extroverted students and/or students who lacked self control. I now see that a
huge side benefit of using the various ways of managing conversation is that it
greatly increases participation of the introverts. When I use strategies such
as Walk and Talk, Elbow Buddies, and Clock Partners, everyone participates to
roughly the same degree. Other strategies, like Talking Piece, Popcorn Share,
and Kitchen Table Talk, encourage well mannered volunteers to join in.
Lots of strategies for lots of
blurting
Like other Developmental Designs practices, it will take time for
managing conversations to become embedded. I will continue to teach and perfect
different ways to manage conversations in all of my classes.
Connie Leuenberger teaches seventh graders at Edgartown School in
Edgartown, Massachusetts.