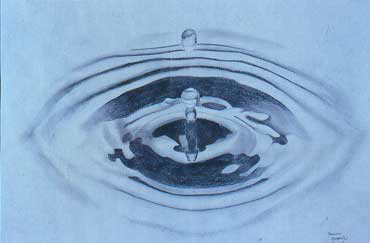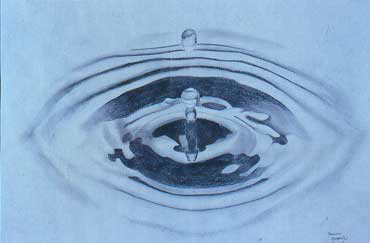 Student drawing of water drop
Teaching is a stressful profession. It's consistently ranked in the top three
of "most stressful jobs in the world" indices, along with air traffic
controlling and cardiac surgery. According to health professionals, stress
weakens the immune system. It can cause anxiety, depression, anger, and a host
of physical illnesses.
For insight into avoiding or relieving stress
from teaching, teachers in an Origins Developmental Designs workshop in
July generated a list of stress sources, as well as their coping strategies,
both proactive and reactive. We also did some research to find out what the
experts say about easing the stressors in schools.
Four Levels of
Relieving Stress
Think about stress relief as occurring in four arenas:
while working with students; at school, outside of class time; at school,
working with adults; at home.
LEVEL 1 At school, while working
with students
You're in class and one of your students is pushing your
buttons, trying to provoke a response. You can feel your emotions taking over.
Your heartbeat quickens; perhaps a vein or artery begins to throb.
Before
things get personal, what can you do to ensure you'll redirect in a way that's
meaningful and helpful? Start by identifying what student behaviors trigger
stress.
Teachers identified these stressors:
Student
conflict
Students in crisis
Complaining, negative students
Absent and
tardy students
Non-compliant and defiant students
Competent students who
avoid work and fail
Students not paying attention, off -task, not
engaged
Students acting out
Students yelling or swearing at
teachers
Student violence, temper tantrums, and other out-of-control
behavior
How do you react to these triggers? What could you could to calm
yourself?
Surveyed teachers suggested:
Sing a song; do a quick sketch
Use a mantra: whisper "Patience" to myself
Say "Stop" to the negative thinking
Say to oneself, "If you're in a hole, stop digging!"
Play Mozart during class
Smile or laugh with students

–

tell a joke or funny story; read Shel
Silverstein
Play a quick game or movement activity, perhaps student-led
Ask student to stand up and turn in a circle (turn the day around)
Do jumping jacks
Sip something warm

–

coffee or tea
Take 5 while students quietly read
Soften voice
Take an impromptu class field trip within school
Remember that students aren't out to get you
Mentally scan body & relax muscles
Count backwards silently
Once you've centered yourself, you'll have
a better chance of depersonalizing the next decisions you make.
LEVEL
2 At school, not during class time
It's your prep or lunch time. Or
maybe you just have a few minutes to catch your breath as students pass from
class to class. Your last hour was stressful, or perhaps your most difficult
class is coming in soon. What can you do to reduce stress?
Walk outside
or inside, around the school
Ask yourself how you want to experience a
particular student or class, and then decide what you have to do to accomplish
that; then, when that student or class arrives, do what you've planned
Sing
yourself a song
Listen to some soothing music
Do a little
dance
Practice a quick bit of yoga or meditation; stretch
Engage in
"mindless movement": erase the board, straighten the furniture, water plants,
etc.
Improve your classroom environment
Many people – students
included – are affected by wall color, lighting sources, furniture arrangement,
clutter, white noise, unhealthy odors, etc. Make the room a more appealing,
aesthetic place for comfortable learning
Teachers suggest…
Relax with a magazine article
Close eyes and repeat mantra "Relax"
Talk with colleagues who can lift your spirits
Organize or clean up something
Power nap
Eat an apple
Play games with students at recess
Call a friend or your partner to get moral support
Send an email to a friend
Cross things off your "To Do" list
Remember that students want to learn
Sit at the rowdy table during lunch
Write in journal
Visit the library or another quiet place
LEVEL 3 Creating
and maintaining a caring, supportive adult community
To help build
professional relationships into sources of strength, it is useful to identify
the origins of stress in the adult community.
Teachers surveyed
described stress from other adults…
Adults not being
proactive
Teachers not doing their jobs
Administrators not listening

Staff members in crisis
Parents with time-consuming issues
Parents who
don't hold children accountable
Unrealistic expectations from
administration
Colleagues not working together
Lack of
communication
What can be done?
Socialize together through
team- and trust-building exercises; birthday celebrations, gathering for formal
and informal staff acknowledgments, sharing hobbies and interests
Create
change incrementally. Prioritize.
Hone your craft together: concentrate
on what you want out of teaching; read and share professional books and
articles; attend conferences; use peer coaching (try this!); create
meaningful staff development opportunities
Be enthusiastic. Expressing a
positive outlook infuses your classroom environment with
possibility.
Avoid negative, gossip-centered exchanges. Carefully choose
how and with whom you spend your time. Find a colleague who agrees to be your
"distress buddy" and talk regularly. If you struggle with a tendency toward negativity, sarcasm, or cynicism, recruit a "positivity mentor" in your building
and check in regularly.
Exercise "Presumed Positive Intentions" (PPI).
Teachers suggest…
Walk together at lunch
"Primal scream" together
Carpool sharing with positive reflections
Eat together

–

healthy food, staff cookouts
Laugh together
Greet each other throughout the day
Have a staff wellness day w/massages and bio rhythm readings
Share your stories and get positive feedback from colleagues
Make wellness pacts (walking teams, weight-loss support)
Tell positive jokes together
Use CPR for staff or team meetings
Tireless Effort Award

–

selected teacher honored with gold-painted tire
wheeled into classroom
LEVEL 4 Outside school
Take care
of yourself – you are a teacher, a precious resource! WE ALL NEED YOU! During late
afternoons, evenings, weekends, holidays, or vacations there are many things you
may already do to rebound, refresh, rejuvenate, reinvigorate, and otherwise
build resilience.
Teachers suggest…
Be active

–

bike, fish, swim, hike, canoe, play soccer, walk, play with a dog,
ski, jump rope
Play with your children
Attend a concert
Mow the lawn
Take a bath
Visit with friends and family; talk about your stress
Read for pleasure
Sleep! (go to bed early)
Nurture hobbies

–

knit, write, scrapbook, quilt, sew, garden
Meditate
Get outside!
Draw firm boundaries between school and home
Do community work
Do something pleasurable each day
Take a nap
Watch the birds and other animals
Go to a ballgame
Look at photos, reflect
Do Tai chi
Coach a youth sport
Journal
Do Sudoku, crosswords
Take a vacation
The experts agree with much of what the teachers
surveyed suggested, roughly falling into these main areas of wellness: sleep;
eat right; exercise your body, spirit and brain; plan fun (have things to look
forward to); and manage stress from home. Here are a few examples gathered from
experts on the topic:
[Special online insert; not
in printed newsletter version].
Sleep: To log those
much needed hours each night here's one strategy for falling asleep quickly:
Find an uncommonly difficult book (anything by Kant, or Joyce's Ulysses) and
curl up with it at bedtime. You'll be "out" before you can say,
"circumlocution!"
Eat right: Remember to eat breakfast and carry
in a healthy snack to help keep you going.
Exercise your body:
Those who exercise slough off stress better. If you're out of shape, start with
a regimen you can do. Build any physical activity into your daily routine.
Walking 15-25 minutes a day rids body of adrenaline and gets the endorphins
circulating. (Endorphins are a natural tranquilizer, a balm.) In a recent study,
156 men over the age of 50 who were suffering from diagnosed depression were
placed into three "remedy" groups: 1) exercise 2) antidepressant 3) both
exercise and antidepressant. After six months, 19% of the group one subjects had
relapsed, compared to 38% in group 2 and 31% in group 3! (Blumenthal,
1999)
Exercise your spirit: Meditation can help boost your immune
system – it can help produce antibodies against illness and lift spirits.
Meditation helps on two fronts:
People who meditated for one hour a day, six days a week had more brain
activity in the part of the brain linked to positive emotion and higher levels
of antibodies than those who didn't meditate.
Its biological effects seen in the study are long lasting

–

up to four months
after the end of the meditation training. (Psychsomatic Medicine,
2003)
Exercise your brain: Learn. If you love what you're
learning, stress (and time) vanishes! So for wellness' sake, stoke your
passions! For example, learn a new language; select a favorite author and read
all his/her extant biographies; or engage in a hobby that taps creativity such
as gardening, playing an instrument, knitting, and chess.
Have things
to look forward to
Big things:
Travel abroad, to include establishing relations with a sister school
Teach abroad
Sabbaticals
Vacations
Long-term PD relationship with a professional trainer
PD school visits to nearby successful schools
Visiting a retreat center (SC, for example)
School events/assemblies
Retirement
Small things:
Massage
Pedicure
Evening routine
Garden
Cup of good coffee
Personal day
Dinner
"Girls' (or Boys') Night Out"
Take care of home life strife so
problems don't affect your approach to misbehaving students
MindSpring
Consulting in Asheville NC maintains that teachers – not students – create much of
the conflict in classrooms. Part of this is attributable to the fact that we
have lives, and things can go awry at home. When this happens, we sometime carry
those problems with us, to the detriment of students. Student behaviors that
trigger stress can bring out the worst in yourself, and this problem must be
addressed. Mindspring's Hadyn Hasty: "I have never seen a teacher who is feeling
badly produce positive outcomes in students."
Schedule time for yourself
Set routines
Talk with family members

–

try using effective language
Communicate
Declutter
Pack your lunch the night before school
Resolve family relationship conflicts BEFORE going to bed each
night
Smile!
Laugh it off: Rent a funny movie and laugh your
stress away. Go out with friends, and keep it light. Remember, the key is to
release the tension, not add to it. (Kenia Morales)
Laugh at your silly mistakes
Say and think positive things
Share good stories with colleagues, especially funny ones
Exchange funny Youtube Videos
Other ideas….
Local
community organizations can help support your community's teachers. They may:
Run positive messages to teachers on electronic signs outside banks or other
businesses, or on billboards, banners or storefront signs.
Invite teachers to a before-school "coffee, juice and pastries" salute at a
local grocery store or other business

–

or even in a school parking lot (think
tailgate party!).
School volunteer organizations can help keep teachers
in good shape – some of these could be taken up by a student council or other
student leadership organization:
Hang a handmade sign on each classroom door saluting the teacher within.
Student groups furnish punch and cookies for the teacher's lounge on Teacher
Day.
Give teachers candy, apples, or other food gifts with appropriate notes
attached (e.g., fortune cookies with a note about how fortunate the school is to
have a teacher of such high caliber).
Flowers.
Set up a lunchtime "Musical Relaxation" on a designated teacher day, where
teachers are treated to a student or parent playing a mellow cello or
equivalent.
Hold student performances (drama, music, dance, poetry readings) in honor of
your school's teachers, seating them in a VIP section near the front.
Refreshments for them are an added bonus.
Stress is inevitable but
not incurable. This year, take some hints from your colleagues and the experts
and intentionally set yourself right.
Christopher Hagedorn is a
Developmental Designs consultant and a staff writer for
Origins.