I've been trying something this
year that has really increased student engagement. In the past, my style for
managing classroom discussions involved pulling sticks, cold calling, or hand-raising. After
a conversation with Developmental Designs
coach Scott Tyink, I realized that my method of managing classroom
conversations was enabling students whose names were not called to check out of
the discussion until the next random selection, and creating anxiety for those who
were uncomfortable addressing the whole class.
To balance engagement, I reflected
on a conversation I had with Scott about the value of using a Turn and Talk partner
share before
I initiate a whole-class discussion.
For example, I now say to students, "Turn
to your partner and answer this question: "Is a solid, liquid, or gas easier to
compress, and why?" Before anyone raises a hand, before anyone's stick gets
pulled or anyone's name gets called, everyone processes the question with a
partner.
What a difference this has made in student involvement in conversations!
Here's what I'm noticing:
Everyone in the class is thinking and talking
about how to respond to the question.
Even the most reluctant speakers are engaging in
conversation with their partners.
I can circulate around the room and quickly gauge
levels of understanding and identify patterns in student misconceptions.
When we share out responses, students already
have an answer or idea to share, so whole-class discussions move at a much
quicker and livelier pace.
Students who need more process time have an
opportunity to think and develop their ideas before they share with the whole
class.
Students practice the art of conversation by
listening to and respecting one another's opinions.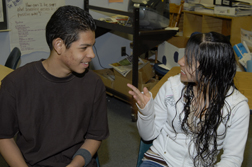 The Turn and Talk routine takes
modeling and practice before it flows smoothly. We practice what a partner conversation sounds like, how to have a
two-way dialogue, how to include a third partner in case of absence, and what to do if both partners are struggling. Once the process is modeled and
practiced and the routine is established, it's amazing how meaningful classroom
discussions can be. Try Turn and Talk to boost and balance participation
class-wide, and let me know what you think.
I love seeing students get excited about learning! I really love that Developmental Designs
provides the framework and support to help me create an environment and design
lessons that enable my students to thrive.
Ann Larson Ericson has been using the Developmental Designs approach in her classroom for more than eight years. She teaches high school chemistry and physical science at Community of Peace Academy, a public charter school on the east side of St. Paul, Minnesota.
Posted May 2013