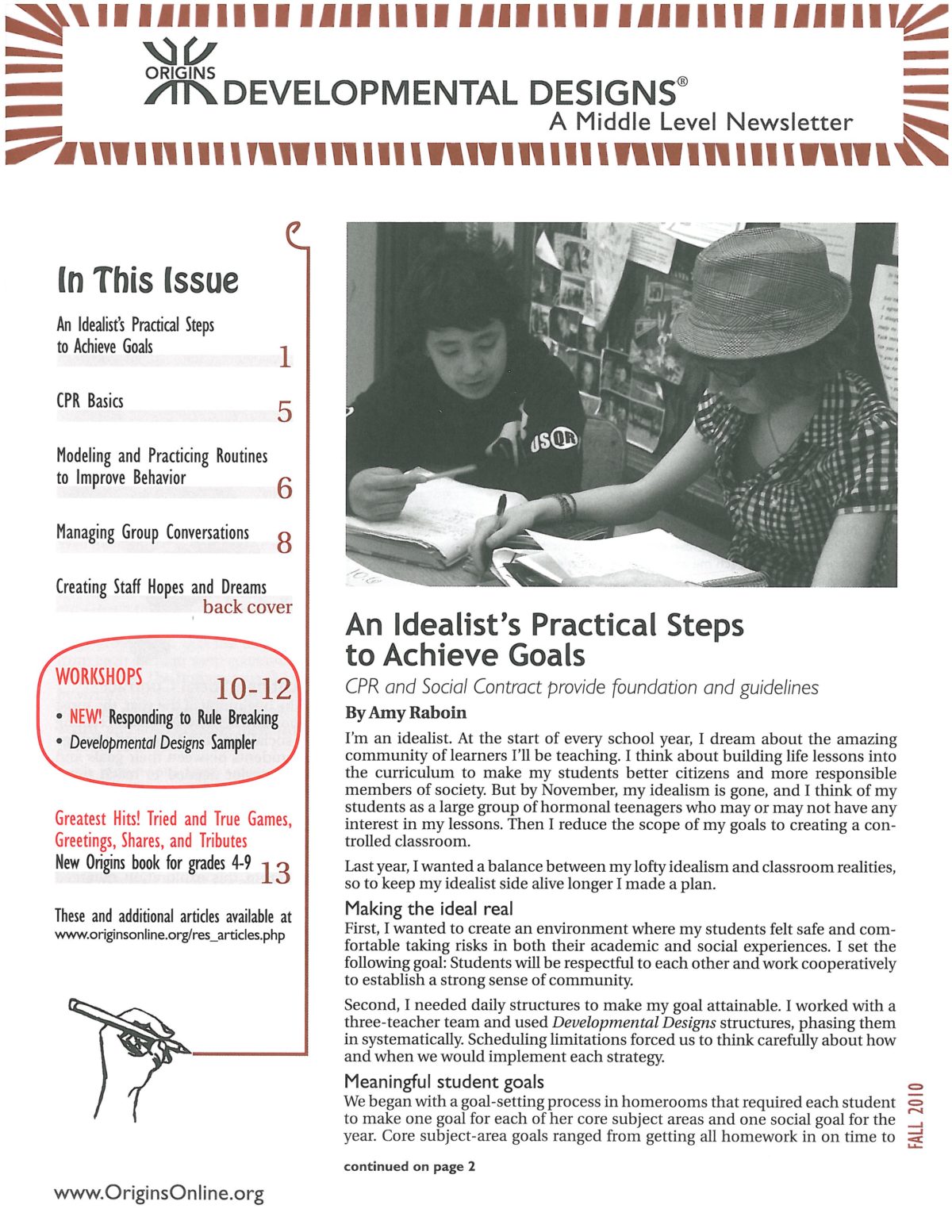 There are a variety of Developmental Designs strategies that you can use to steer students toward active learning at the outset of any class or in whole-group lessons. Consider using one of these active and interactive ways to structure a content-related task for students. Be sure to model and practice each task so that students will feel comfortable and competent.
Think, ink, Pair, share. Prime students for learning! A lesson-related topic presented in the form of a question or two provides students a chance to settle in and do some initial on-task thinking. Giving them a prompt that is relevant and moderately challenging addresses their need for competence. Students write down their thoughts, then share them aloud with a partner or partners. This allows students to meet their need for social interaction.
Play a fun review game. Use a game to structure five to ten minutes of review. Create a team "relay;" use timers to pressurize the thinking and create fun; use a team Quiz Bowl or Jeopardy format, or play charades. Play gets everyone involved and engaged.
Create a visual. Form groups of two to four students. Assign the task of representing information in a chart paper-sized graphic organizer. Then have each group post their visual and take a few moments to explain it, using the interaction format Stay and Stray. Or, when all the visuals are posted, conduct a Gallery Walk, during which students examine each other's visuals. These tasks provide students opportunities for active construction, social interaction, self-determination, and relevance.
Peer teaching/learning jigsaw. Assign half the group the task of thinking about and responding individually to a prompt. The other half does the same, but to a different prompt. In this structured-interaction practice, the groups gather to discuss their answers. Next, each person from one group finds a person from the other group with whom to share information.
Discuss what's being learned. During lectures and demonstrations, provide students with regular opportunities to talk. These can be partner shares or whole-group discussions. In either case, manage the discussions: Label Popsicle sticks with students' names, one for each student, and use these to create partners or call on students to
answer questions. Or use a "talking piece," an object that signifies that it is the holder's turn to speak. Or create "chat zones," spaces in the room where students can discuss a question you have posed.
Move. Class discussions can benefit from having students move to various spots in the room to indicate opinions or other thinking. For example, in a science discussion, the teacher could make a series of statements about characteristics of rocks, and students could move
after each statement to the corner labeled "igneous," "plutonic," "sedimentary," or "metamorphic" that best fits what the teacher was describing.
Active listening. Teach students how to sit, watch, and organize materials for good listening. Model proper body position, how to track the speaker with eyes and ears, how to give nonverbal feedback to the speaker that gives her evidence of listening, how to organize materials on or under desks, etc.
Storytelling. According to many attorneys, the best way to get a jury to remember the details of a case is to tell a compelling story. Instead of a formal lesson, tell a story that includes the key concepts your lesson needs to get across. A well-told story is a great vehicle for effective teaching and learning. For example, a math teacher could teach her students how to plot the values for X and Y by sharing a recent experience she'd had in: Right smack in the center of Philadelphia stands its glorious city hall. Broad Street runs north-south from City Hall, and Market Street runs east-west. In other words, Market Street functions as Philly's X-axis and Broad Street functions as its Y-axis. I had to get from City Hall to Rittenhouse Square for a dinner appointment at Parc Bistro, and time was short. To get there, I had to walk four blocks to the west, and four blocks to the south. So I walked down Broad Street four blocks to Walnut Street and turned right. Four blocks up Walnut Street, I came to 18th Street, and there it was: One of the most beautiful squares I'd ever seen! And the food at Parc Bistro was delicious…
Students teach. Whenever it's appropriate, step aside and let a student or small group of students lead the lesson or discussion. Of course, planning is essential. Make sure the student knows his stuff, and has been given at least a quick tutorial about how to teach, including the proper voice level, pace of delivery of information, and so on. Similarly, the audience should be reminded about how to properly take notes, ask questions, and otherwise optimally engage in the receiving of information, regardless of who delivers it.
This article first appeared in Developmental Designs: A Middle-Level Newsletter, Fall 2011