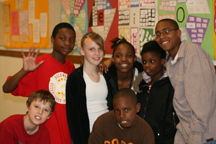 St. Louis Park
Middle School (SLPMS), in a first-ring suburb of Minneapolis, Minnesota, is a
vibrant middle school of about 1,000 sixth, seventh, and eighth graders. This
is their second year with sixth graders, after a district reorganization. Les
Bork has been the principal at SLPMS for much of his career. Mia Waldera, the
Professional Development Coordinator, is in her tenth year at SLPMS and has
played a large role in maintaining the presence of the Developmental Designs (DD) approach at the school.
Here Les and Mia share their experiences with the
approach.
Principal Les Bork
What are the major benefits of
having the Developmental
Designs approach
in your school?
1. Fewer disciplinary incidents, in service
of achievement
2. Happier people, both students and staff, in service of achievement
3. Higher achievement in reading, writing, and math
What
effects of the Developmental
Designs approach
do you notice in the classrooms?
Many of the teachers have "moxie"– great
rapport — with the students. They also understand their content areas very well.
I am careful to hire teachers who are highly knowledgeable in their fields, and
who are likeable. Right now, only four staff members are not trained in DD. I
don't hire anyone who won't commit to a week of DD training in the summer
before the school year begins. I watch the student discipline incident numbers
as an indicator of which teachers need more support, and I expect them to get more
DD training if needed.
I strive for a
growth mindset within myself, and promote the same in our teachers, to
encourage continual openness to learning. DD is an approach teachers can rely
on.
What
have been some of the challenges of implementing the Developmental Designs approach at SLPMS?
Maintaining a reflective practice that
expands and continues beyond the summer training, that keeps the work alive
throughout the school year, is the biggest challenge. We work with a consultant
from Origins during the school year, who offers coaching and tracks progress
with teachers. I also recommend that elementary schools in our district use the
Responsive Classroom approach to build familiar language and expectations.
This helps prepare for a successful and smooth middle school experience,
supported by DD.
Professional Development Coordinator Mia Waldera
What was the school culture like
before teachers began their Developmental Designs training?
We had some powerful things in place to
develop strong climate, student community, and achievement.
We did home
visits with all students at the start of the year; we looped with students from
grade 7 to 8; and we had students and teachers organized into teams. Those
practices have eroded over time, mostly due to budget cuts. Without those
structures in place, our school could easily have deteriorated, but it didn't. We
moved into implementation of the Developmental
Designs approach in hopes
of recapturing and maintaining a positive school climate and strong community.
What
were the first changes you perceived among teachers?
The first change that I perceived was a
move to simple, clear conversations between adults and between adults and
students, which led to better relationships. The DD practice of the Circle of
Power and Respect advisory meeting gave everyone permission and time to relax and
enjoy being together.
What
were the first changes you perceived among students?
I saw a positive response to being with
each other and with staff, and a friendlier climate all around. In hallways, in
classrooms, before and after school, people enjoy being with each other, and we
all notice many positive interactions.
What
have been the sustained benefits to your school of the presence of the Developmental Designs approach?
We've seen fewer disciplinary incidents; consistent
classroom management practices; more reflection and collaboration among
teachers; a consistent approach to lessons; and an increase in explicit learning
objectives. Because discipline problems are down, students are in class more to
receive rigorous instruction, which we expect will raise our achievement levels
and help close the achievement gap. We saw a 42% decline in disciplinary
incidents in grades 7 and 8 between the 2007- 2008 and 2009-2010 school years, which
is when we began the implementation of DD practices.
What
Developmental Designs consulting services have been the
most helpful for your school?
The two most helpful services have been the week-long DD1 and
DD2 trainings, and the consultant/coach to work one-to-one with staff and to provide
in-house training.
What
changes have you made in response to student data or consulting?
We reflect regularly and deeply on the
data we receive about student social and academic performance. We've changed
our professional development plan to include more in-house Developmental Designs training, with a focus on student engagement
and formative assessment practices. We also changed how we allocate money for
training, keeping DD in the forefront. And the content of our homeroom time has
changed, to include lessons using the Activity Plus advisory format (allows for
extended activity time) to consistently reinforce all-school practices and
goals.
Jessica
Crawford was a research assistant for Origins. She has returned to classroom
teaching.
Published August, 2012