A threshhold is a place or point of entering or beginning.
Being at the threshold of your classroom between periods can be one of the most beneficial moves you make each day.
An initial exchange at the doorway—a quick "Good afternoon,
Val"; "Good afternoon, Mr. Hagedorn" accompanied by eye contact and
perhaps a nod, handshake, or fist-bump—connects teacher and student and
creates a safe, friendly, humane context for the period.
While you greet each other you can:
"Read" the mood and emotions of each student and help
them prepare for class
Direct students to information they
need to get started
Quickly check in with a student to acknowledge
something that happened recently, welcome him back from absence, and/or
remind her of an expectation
Take attendance, which saves a little time for teaching
and learning
Keep track of who is arriving in plenty of time and who
is cutting it close
While you're at the threshold you can:
Keep an eye on both your classroom
and the hallway
Greet passing students who are not
on their way
into your class
Encourage students to hurry along to their next class

as the passing period winds down
Quickly confer with your colleagues who are also standing
at their thresholds
Briefly socialize with colleagues and/or
students
Other benefits of standing at the threshold:
Students perceive you as prepared,
calm, confident, and caring
Bullying and other anti-social
behavior can be detected and stopped
The hallway becomes safer and quieter, and tardiness diminishes.
Greet each student at your classroom's threshold and set the stage for a great hour of learning! Let us know how it goes.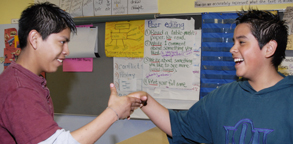 After the bell rings, try out a few of these greetings with your class.
Chris Hagedorn is the co-author of Classroom Discipline: Guiding Adolescents to Responsible Independence.
Posted September 2013
Read more posts from the Developmental Designs blog.