The Developmental Designs approach is everywhere!
Recently, I was reminded of the relevance of Developmental Designs strategies while sitting in the passenger seat of the car my soon-to-be 16-year-old son was attempting to parallel park.
I know how well using Developmental Designs language and
approaches works in my classroom, but I saw many similarities in how it
worked with my son and his parking practice.
I was reminded of the value of constructing one's own learning.
Peder did not want me to tell him how to parallel park; he wanted to
actually parallel park. The most beneficial way for him to learn was to
park the car 38 times (I counted!) while I sat relatively silently.
I kept my "expert input" to a minimum, which was vital. He didn't want a lot of advice and instruction.
He didn't want to watch me park the car; he wanted and needed to learn by doing.
I made my input clear, direct, and brief, with a minimum of explanation. We were in an empty parking lot where there was no danger to other cars or people, so I held my peace and let him learn by experimenting. What a great way to learn, both on the road and in the classroom!
I also recognized anew the value of asking meaningful reflective questions."What
did you do differently this time that got you so close to the curb?"
was far more beneficial to his learning than criticism.
Helping him notice what he was doing right and reflect on his successes built his skills as well as his ability to learn from his experiences.
And self-reflection is something we want our kids to apply to other
decisions and actions they take as they move through adolescence.
I kept praise to a minimum.
Peder knew when he was parking successfully, whether I raved about the
nearness to the curb or the untouched cones or not. All I had to do was
open the passenger door and let him know the number of inches (or feet!)
between the car and the curb. He appreciated the occasional high five
and recognition of improvement, but these weren't the only factors he
used to measure his success.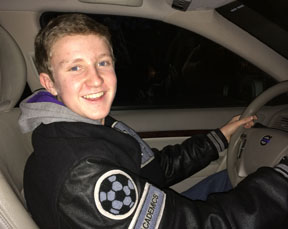 Peder drives home the value of students constructing their own learning for blogger mom, Ann Larson Ericson.
My son's success is measured by his own sense of accomplishment. My
success in this experience is in seeing him succeed and develop his
skill in reflection and self-evaluation. It's good to step back from the
classroom for a bit and think about teaching, and to remember all the important skills I can use both in the classroom and with my own kids.
Have you used Developmental Designs strategies outside the classroom?
Ann Larson Ericson has been using the Developmental Designs approach
in her classroom for more than eight years. She teaches high school
chemistry and physical science at Community of Peace Academy, a public
charter school on the east side of St. Paul, Minnesota.
Posted December 2013
Read more posts from the Developmental Designs blog.