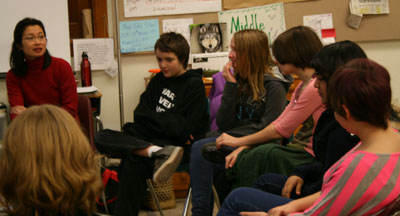 As I entered my third year of conducting community-building Circle of Power and
Respect (CPR) meetings with sixth graders, I wanted to know what my students
thought of the meetings.
My Developmental Designs-trained colleagues and
I agreed it was time to collect student data about our CPRs. In September, we
surveyed 41 sixth graders in our advisories: approximately 15 students from each
class. We found their answers very insightful and helpful.
Their responses made
us pause and examine some of our assumptions.
Survey question:
How
many people in your CPR group were friendly with you before you began CPR this
fall?
Survey response:
54 percent said "4 or fewer" and only 20
percent said "most."
Lunenburg is a small town. Most of our students have
been attending school together since kindergarten. Going into this year, I
thought we didn't need to worry about creating a safe, comfortable, and
inclusive environment, because the kids already knew each other very well. Their
answers suggested otherwise. Already knowing each other did not ensure that they
felt safe and included. What matters is the quality of that knowing. With CPR
embedded in our days, we can make sure that our students come to know each other
in deeper, more positive and respectful ways.
Survey question:

Which CPR component makes you feel you are a part of the
community?
Survey response:
Sharing received the most student
responses by far, at 45 percent.
Discomfort with sharing
I
might have predicted that the greeting or activity portions would receive higher
numbers than the sharing portion; students in my advisory seemed to show more
enthusiasm for these. On the other hand, sharing ranked the least favorite
component of CPR in a separate question ("nothing" came in second). One possible
conclusion: because sharing takes students outside their comfort zone, they
hesitate to embrace it wholeheartedly, but are savvy enough to acknowledge the
benefits they derive from it.
The divided feelings about sharing reflect
the developmental quandary middle school students find themselves in. They
understand the world far better than younger students (so they see the benefits
of certain behaviors) but feel things—including being pushed outside their
comfort zone—acutely. This often puts them at war with things that are in their
best interests. We need to provide safe contexts and support for these growth
experiences, and community building through CPR does exactly that.

Student question:
Name what we do in CPR that makes you feel
included.
Survey response:
By far the most common answer was
"everyone gets to participate."
Another commonly commented-upon aspect of
CPR was the fact that we sit in a circle, and everyone can see everyone else's
face. Several students wrote about the importance of good social skills during
the meeting, as well. One student wrote, "We smile, we make eye contact, and we
always listen to what others have to say."
In November, after CPR had
become familiar, we added a new question to the survey:
"How much has your
opinion of CPR changed since the beginning of the school year?"
Survey
response:
Sixty-six percent of students said their opinion had changed "a
lot," and all of these reported a more favorable perception when compared to the
beginning of the year. Eleven percent reported no change at all, and each of
these explained that they loved CPR from day one. Overwhelmingly, students enjoy
CPR meetings.
Student quotes
Here are several direct student
quotes from the November survey:
"At first I thought, 'Why is this
necessary?' but now I look forward to CPR every day!"
"I feel comfortable
now and not so shy."
"We get to talk about ourselves and have fun with
greetings and games."
"At the beginning everyone didn't like the whole
'sitting next to the opposite gender' thing. But now everyone sits next to
whoever and they don't complain at all!"
"We are all silent now when
someone else is talking and we weren't at all before."
"CPR is now a real
motivation to come to school for some kids."
"Kids talk more to me now.
Even (a 'popular' girl) says 'hi' to me in the halls."
"I feel like I can
trust kids in our group more, and I would love for any of them to be my friends
outside of school even."
"At first we didn't really make eye contact at
all because we didn't feel like we really knew each other. But now we know each
other a lot more and we enjoy talking to each other."
Clearly, the time
spent planning and facilitating CPR meetings is very worthwhile. Students are
eager to participate and are consciously aware of the benefits of CPR
participation.
Melanie Pouliot teaches 6th graders at Turkey Hill Middle School in Lunenburg, Massachusetts.
Published April 2011