In a classroom last month, I overheard a student critiquing the class to another student.
"I wish we didn't have rules here" he said.
"Rules are so elementary school!"
Any middle school teacher knows students are apt to critique everything a teacher does, including book choice, class length, class time of day, student groupings, the rules… the list goes on and on.
But many times, what students say they want is not what they need.
Critiquing is part of adolescent development.
One way adolescents find their own way in life is by pushing against
and away from those in charge, often by questioning and critiquing. In
these times of pushing and searching, teens need the security of realistic, clear, enforced boundaries so they are safe to question. And the foundation of all boundaries in school and in a classroom is the Social Contract.
Referring to it is an effective way to deal with the pushback; it
changes the voice of authority from the teacher to the agreement
developed and signed onto by the entire community.
Making the Social Contract a success
1. Post the contract where everybody can see and read it.
Have all students endorse the contract by signing it. Be sure to post one in the back for yourself to remind you to use it.
2. Allow student input.
If your school does not create an all-school Social Contract,
use the rules from the school handbook, and have the class define them.
"One of the rules in our handbook is 'Do your best.' What does our best
look like and sound like when we have a guest speaker?"
3. Refer to the rules when students are successful.
"In what ways did we do our best during independent reading time?"
4. Refer to the rules when mistakes are made.
"I
noticed several people talking or doing homework during the
presentation. Remind me what it would sound like and look like if we
were doing our best to be attentive."
5. Keep your voice and body language neutral or positive when referring to the contract.
Students need to get the message that you enforce boundaries for the good of the community, not out of anger.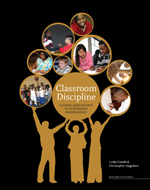 Classroom Discipline (Crawford and Hagedorn, 2009) presents a detailed discussion of the Developmental Designs approach to creating a Social Contract as a powerful guide for behavior.
Scott Tyink has helped to design and facilitate Developmental Designs workshops, consulted in middle schools, and coached teachers for more than 10 years. For
14 years, he taught adolescents in grades 5 through 8. He co-organized,
directed, and taught in La Crosse, Wisconsin's first multiage
middle-level charter school, where he developed curriculum that
integrated arts and technology to inspire and challenge students.
Posted January 2014
Read more posts from the Developmental Designs blog.