My son Henry is in kindergarten at the school where I teach. When I picked him up on a recent Tuesday, I asked him what he did that was really fun that day.
"We played Silent Ball," he answered.
Silent Ball! Wow!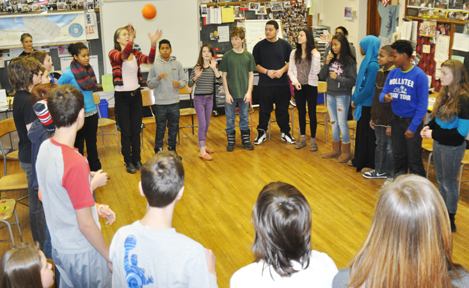 That's been one of my go-to games as a sixth-grade teacher for years. Its basic premise is you throw a classroom-safe ball around without dropping it and without talking. (We usually play it at the end of the day when students are being gradually dismissed, because it does not ruin the game if someone leaves.) Also, I had been in a 10th-grade classroom a couple of days ago, and they were playing Silent Ball. And I'll admit I myself (at a youthful 39) enjoy the game!
If Silent Ball came in a box, it would feature a recommendation for "Ages 5-18," or maybe "Ages 5-80." I started thinking about how many of theDevelopmental Designs games span an enormous age range. Sometimes it takes a little thinking and tweaking to make them work for different ages, and that generally comes from my students.
While games are known to bring a good deal of fun and relationship-building to a classroom community, a key component in introducing and playing games in the middle years is autonomy. Whenever you can, once you have your basic structures and a peaceful, productive climate in place, move out of the way sometimes and let the students run the show!
My advisory group this year enjoyed Moose, a game involving hand motions. Suddenly, the group turned against it like it was gum that had been chewed too long! We keep a list of games we like on the wall, and I thought we might have to cross it off the list. I initiated a conversation about why they had grown disenchanted. Basically, the problem was that some aspects of the game had become too easy, and it was taking too long to get people out. I gave a small group the challenge of jazzing up the game so it would again meet our need for fun.
Sure enough, two days later, two students led a CPR meeting, which featured a "new and improved" Moose. We renewed passion for the game by introducing motions for "cowboys/cowgirls" and "penguins." The excitement lasted for a few weeks, at which time we had to increase complexity again.
The cool aspect of the process is that I handed all the responsibility to students. I didn't really know how to salvage the game and was not sure if they could either, but why not try? When the class ended up enjoying the renewed game, it was a source of pride for the students who had re-engineered it.
Which brings me back to Silent Ball. The reason I love playing it with my students is that we have always added cool or bizarre twists to keep it fun and challenging. If you walk in my room at the very end of the day, you might see a student trying to catch the ball with his feet, eyes closed, or saying the name of a president before she catches it without using her thumbs! Every tweak is invented and analyzed by students … using the reflective Loop!
When young people gain productive control of pieces of their day, they yearn for more. Responsible autonomy carries over to other structures, including academic assignments. As long as they are honoring the class rules and goals, student autonomy is a huge boon to the community vibe in our class. And it definitely leads to some very silly ways to throw and catch a plush ball!
What are some of your students' favorite games?
Eric Charlesworth is a sixth-grade mathematics teacher and advisor at Paul Cuffee Charter School in Providence, Rhode Island. Recently, he obtained principal certification. He has practiced the Developmental Designs approach in middle school for eight years.
Posted September 2013
Read more posts from the Developmental Designs blog.