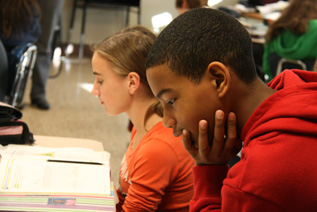 Two
of my colleagues and I were asked by our principal to form a sixth-grade teaching team for this school year. We had
not worked together, and we wanted to be intentional about how we worked with
our students, including what we would emphasize across all classrooms.
Participating together in the Developmental Designs 1 (DD1)
workshop was our opportunity for a great beginning. Then it was time to get to
work.
Strategies
put to work
Implementing
these Developmental Designs strategies
impacted my classroom on an ongoing,
daily basis:
Goals and declarations
The Social Contract
Take a break out of the classroom (TAB
Out)
In order to be effective
in integrating these new strategies into the daily life of our sixth-grade
team, we needed to use other Developmental Designs strategies
as well, including modeling and remodeling, and empowering teacher language.
A major focus this year
has been to have students handle their responsibilities independently. We
created procedures for this, and have tried to stay consistent throughout the
year as we set and maintained our expectations. For starters, my colleague and
I defined what we wanted to see from our students:

When
students work independently, they enter the classroom with a sense of purpose.
They know what they need to do to be ready for class, and they take care of
their classroom responsibilities without checking in with us.
Ready to Learn in 3 Min.
Intervene early when students don't
follow routines, suggests educator Alison Levy.
"At the start of one class
period, some students were dragging along rather than getting right to work,
and I was getting frustrated. I took action. We talked about what it should look,
sound, and feel like as they enter, and I told them I was confident they could
be ready to learn in three minutes. I
announced that I would time them the following day.
The next day, I greeted
everyone at the door with a timer, and told them that I had pressed "start."
The room hummed with rapid settling in: recording homework assignments, moving
to the rug, and very little chatter, except for reminders: "We're being timed!" After three minutes, in
two classes out of three, all students were in our whole-group space, ready to
go.
We talked about the strategies they used to get the job done
and I took notes, which became the basis of a very helpful Y-chart.
In the class that wasn't able
to meet the three-minute challenge, I stopped them at three minutes,
talked
briefly about strategies those students who were successful used, and
then I had them go back into the hallway. They reentered and I timed
them
again. This
time, they did it in less than three minutes.
We talked again about what worked, and I let them know that I would
meet them the next day at the door and ask what strategies they were
going to use and time them again. I did meet them
at the door, and they were ready on time."
Chart
what independent learners look like
We
shared this vision with students and created Y-charts with them to flesh out
what a classroom of independent learners looks, sounds, and feels like at
different times during class. We referred to those charts frequently in the early
months of the school year, and we still use them as needed.
Make
everything routine
We
have established the following specific routines:
Entering the classroom and getting ready for whole-group time
Our signal for attention ("show five," with all students raising a hand)
Listening to morning announcements
Moving furniture around the room
Hand-raising rather than blurting during discussions
Options when work is finished
Using the restroom and getting a drink of water during class
Use of materials and cleaning up
Use of TAB chairs
Classes
change but routines stay the same
Having
clear expectations and applying them consistently in all of our sixth grade classrooms
has increased students' ability to remember the routines, which helps them to
be responsible and ready to learn.
Creating
the Social Contract

We
spent the first week working an hour per day on a Social Contract. Students worked
in small groups to propose three-word guidelines for success, and those groups
shared their proposed guidelines in their homerooms.
Each homeroom came to consensus on three guidelines, then brought
those guidelines to the all-sixth-grade meeting, where each of our homerooms presented
their guidelines. Sixty-six students and four adults worked together, and we
ended with these four guidelines:
– Be respectful
– Be responsible
– Be honest
– Do your best
These are posted in all classrooms, including our Special Educator's room.
In language arts
classes, each student wrote about what they felt was the most important of the
four guidelines. Each student wrote about why he or she believed that guideline
was most important. Students signed their writing, and we posted these thoughts
on a bulletin board in our hallway.
Check
your progress
As
we moved through the year, we stopped
periodically and reflected on our
progress as a team and as individuals
toward the goal of being responsibly
independent learners. During these
discussions, we created new Y-charts as needed. In one instance, we talked
about our silent reading time. It was worth the time it took: now, students
sometimes remind each other of expected behavior by pointing to the chart when
someone is having a difficult time getting settled.
Managing
behaviors with new confidence

Following
through with teaching routines and skills takes time that sometimes seems to be stolen from academic teaching. But without taking this
critical time to teach the skills students need to be independent and
responsible, academic learning suffers.
For the first time in my teaching career, I feel confident in my
ability to manage classroom behavior challenges. My teammates
and I consistently use TAB and TAB Out, and that has reduced my anxiety about
making sure the classroom is conducive to learning for all students.
Telling a student to take a break is not a punishment, and is
not perceived as one. Rather, it is an acknowledgment that the student (or I,
when I go to the take-a-break chair), needs a minute to collect thoughts, take
a deep breath, and get ready to return to learning.
TAB Out has provided me with a consistent plan for what to do
when a student needs to rethink what is driving her behavior. In the past, I had
to decide regarding each behavior incident what to do: send the child into the
hallway, to another teacher's classroom, to the behavior planning room, etc.
Because students knew there were several possibilities, they often pushed back against
my decisions. Now we have an agreed-upon system, and we use it. It always
involves a conversation about what needs are not being met and how to make sure
those needs are met appropriately. We are the only team in the building that
has not sent a student to the planning room this year. That feels great!
Forward!
When
my teammates and I completed our DD1 workshop, we asked our principal to
purchase resources for us to support our ongoing learning. He did, and now we each have a copy of The Advisory
Book and Tried and True Classroom Games and
Greetings. With these, my DD1 Resource
Book from class last summer, my
teammates, and the other teachers in my
building who are using the practices in
their classrooms, I am well equipped to
continue growing as a teacher. Implementing a new pedagogical approach to
classroom management and teaching has reinvigorated me and boosted my
confidence in myself. It was a great year!
Alison Levy teaches sixth graders at Essex Middle School in Essex Junction,
Vermont.
Published January 2013