As a teacher and school principal, I took seriously the challenge of building a supportive school community. Sometimes conflicts from outside of school seeped into the classroom. The Developmental Designs practice Power of Play is an important tool for reconciling differences between individuals, and it helped me defuse a difficult situation in my sixth grade class.
A student from another school transferred into my class two months into the school year. In our class, we had a ritual of stopping whatever we were doing to welcome a new student to our learning community. Chad arrived during math class and introduced himself. I informed him of where we were in our math unit and the learning target for the class period. Chad sat down and was attentive during the mini-lesson. After the mini-lesson, I asked students to turn and talk with a partner about my directions and their work time. Chad turned to Jerome, then said out loud, "I'm not working with him because my brother doesn't like his brother, so I don't like him!" "Man, I don't like you, either," said Jerome.
I intervened and assigned Chad and Jerome other partners. The other students looked shocked, but they didn't engage in Chad and Jerome's conflict. Jerome handled it quite well, and didn't retaliate further.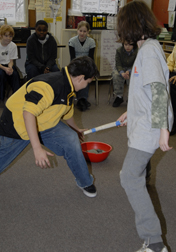 I knew what to do. Adolescents have a strong need for fun and relationship. I had to change my class format to include some fun games and activities to allow students to get to know each other in quick, personal, and fun ways. I had to have a playbook.
Over the next several weeks, I built games into class periods. We used five minutes for quick games that worked as icebreakers, getting-to-know-you opportunities, team-building, and just plain fun. Students responded well. I chose games that paired students with a variety of classmates. To help Jerome and Chad in particular, I paired them up for a series of team-building activities: "We will play Mirror. A is the leader and B is the follower." After a few minutes, we switched: B led and A followed.
Day by day, during the games there were moments of intense silence and concentration as well as outbursts of laughter. It really helped break down barriers. Chad and Jerome were able to work together without hesitation or conflict, and Chad's outburst a few weeks ago seemed ancient and forgotten.
Just a little playing together gave my students a way to build stronger bonds with one another and practice kind and respectful behavior, all the while having fun.
Dr. Terrance Kwame-Ross is the former Executive Director for The Origins Program. He teaches at the University of Minnesota and previously taught in the St. Paul Public Schools. He co-founded and served as principal for four years at New City Charter School in Minneapolis, Minnesota.
Posted June 2013
Read more posts from the Developmental Designs blog.