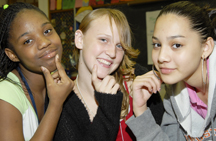 To begin the new school year, before I ask students to develop their goals
and declarations, I engage them in a conversation about the abrupt transition
they're being asked to make—from summer time off to school. Regardless of how
they've spent their vacation, chances are school life will be a dramatic change.
Anticipating this transitional phase, I use our meeting time on our
first day to brainstorm with students and create lists of the ways they spent
time in the summer. After reflecting on this list, we discuss how they'll be
expected to spend their days at school. We look for the differences, name them,
and talk about how we can go about getting used to the rigors of school life
again. Here is our process.
Summer vs. school year
After
forming a circle, we acknowledge as a group that the routines and expectations
we live by at home are very different from those at school. I ask students to
share reasons why we are governed by different expectations in these two
settings. I remind them that our classroom community will become their second
home and that we each play a role in shaping it into a healthy and safe
one.
To ensure that I reach each student, I let them know that even
teachers have to make a transition—from "summer-minded" people with no schedules
and no routines to "school-minded" teachers who are responsible for educating
young minds. I let them know that they have the power to govern their own
actions, but when they are being unsafe, it is my job to guide them back toward
responsibility, which, in turn, allows them the opportunity to achieve their
goals.
We draw images that represent transformation: a tea cup morphs
into a car, for instance, or a hammock becomes a school chair, or an ice cream
cone turns into a pencil. This further interests students in the idea of change
itself. The playful acknowledgment of the demands of life in school helps set
the stage for them to declare specific, attainable goals for the
year.
School year routines made real
Finally, we create charts
about what school routines might look, sound, and feel like. How will we begin
each day? How will we circle up for meetings? What protocols will we use for
participating in discussions (hand-raising, calling out, calling on each other)?
The more specific I can be with them about appropriate school behaviors, the
easier it is to hold them to those behaviors.
This procedure helps my
students shift into a school-oriented mindset on a positive,
relationship-building note. They see that I care about and appreciate them, and
that I have empathy for them. They also see that I expect them to make the leap
from summer to fall, and that I will insist they do so. After these discussions,
students are better prepared to create meaningful goals and to adhere to our
rules, rather than push back against them. Most importantly, they are introduced
to a new way of thinking, a way to proactively strategize how to be successful
at the beginning of any big transition in their lives.
Dexter Yee Yick
taught 5th and 6th graders at New City School in Minneapolis MN.
Published September 2009