One
of the most interesting parts of my job involves the follow-up I do with
teachers after they attend workshops.
Several times each year, I visit
classrooms of trained Developmental
Designs practitioners. I am always curious to see how a teacher has
absorbed and is now using the practices. It's also intriguing to
compare how a teacher learned
during the workshop to his/her current implementation.
Naturally,
people interact with the information presented in the workshop differently. Some
mull things over out loud; some take copious notes, others none; some can't sit
still, while others appear to be able to focus endlessly. No surprise here:
we're like our students!
Then
there's the matter of actually using what's been learned. Surprises abound for
me: sometimes a person who seemed to vociferously question everything during the workshop, to the point of making me wonder
why he even bothered to come, goes on to implement more in the first year than
most ever do.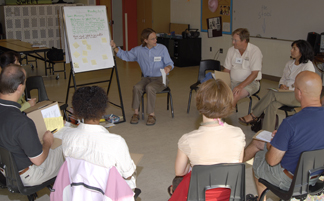 The
same thing can be true of someone whose workshop participation was very quiet,
almost passive, to the point where I wondered whether she bought in at all. Later,
I step into her classroom, and Wow! She's doing it!
Some
initially seem ambivalent about being at the workshop, or don't agree
with our philosophy, only to emerge seemingly transformed at the end of our
time together. And some of these educators go on to a very high level of
implementation.
Then
there's the teacher who seems to be implementing a Developmental Designs practice, who has not had any training at all,
but has "absorbed" pieces of it from colleagues. I once complimented a teacher
on her excellent use of a Developmental
Designs practice, and she replied, "What is Developmental Designs?" She had never heard the name, but knew that
this practice would improve her teaching!
Like
middle schoolers, every teacher learns in his or her unique way. But why do some
teachers implement much more than others? Is it the degree to which the
approach fits one's belief system? Does it have to do with one's opinion of his
or her need to change or grow?
What
do you think most impacts a teacher's
level of implementation of Developmental
Designs practices after a workshop experience?
Chris Hagedorn is the co-author of Classroom Discipline: Guiding Adolescents to Responsible Independence.
Posted July 2013
Read more posts from the Developmental Designs blog.