March
Madness 2013 (the NCAA men's basketball tournament) was a time to see what
great coaches can do. And because great coaches are great teachers, we can
learn a few things from their examples.

How do some teams emerge from out of nowhere to oust
favorites (Florida Gulf Coast and Wichita State come to mind)? And what about
those, like Michigan, who gradually improved their performances and peaked at
just the right moment? What's their key? It's clear that these teams owe their
post-season success to the learning they've done during the regular season and
to the guidance of a skilled teacher, their coach.
Great coaches, like effective teachers, are experts at what they coach. They know what elements have to be present in a team's
performance to be successful. They cultivate those elements through effective
feedback to their players. They set clear and lofty goals for the team and
enforce rules that ensure productivity. They model and have players practice,
and practice again, the skills upon which success depends. They are "hands-on"
involved with each player. And, when the moment for performance comes, players
have only to execute all that they've learned well.
Great coaches draw the best out of each player, growing each
according to his unique capacities. A competent, quick-footed point guard in
November grows in confidence so that in March he is practically unstoppable in
his relentless drives to the hoop (witness Russ Smith from Louisville). He has
been encouraged by his coach to explore his capacities and take risks to the
point where he knows with certainty that he can execute his signature move to
break down the other team's defense. The tall guy standing under the hoop, with
the coach's guidance, now pulls down twice as many rebounds as he did in
November because he executes nuanced techniques for boxing out his opponents,
learned with the help of expert feedback and input during the regular season
(think Michigan's McGrady). Each well-coached team member plays with a grit and
intensity in the tournament that they couldn't have imagined earlier in the
season because he has grown confident in his ability.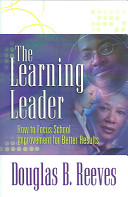 A talented but erratic team may be fairly successful, but
only the systematically strong and predictably productive get to the Final Four,
because little is left to chance by these teams' coaches. Douglas Reeves'
"Leadership for Learning Framework," (in The
Learning Leader, 2006) would say that there are "lucky" teams (those who get
decent results but don't clearly understand why, and therefore can't replicate
them), and there are "leading" teams (those who get good results, are clear
about what they did to get the results, and are therefore poised to repeat
them). The Final Four are "leading" examples.
Students learn from effective teachers in much the same
ways. Their teachers know who they are and build on their strengths. They are
relentless in reminding them of their goals and skillful in communicating their
relevance. They respond to their students' idiosyncrasies and are in a
continuous process of providing targeted feedback and helping them monitor growth.
When it's time to perform, they reach proficiency with confidence because they
have followed the path expertly laid out by their teacher:

A student who has been prompted by her teacher
to routinely reflect on her progress (the Loop) in writing an essay relative to
agreed-to indicators of quality, is not surprised when the due date arrives and
hers is in good shape.
A teacher who painstakingly models and has
students practice daily routines for use of a planner will surely spend less
time chasing down missing work because her students know how to perform
successfully.

Are you coaching your students to be a "leading" team?
Todd Bartholomay is the Programs and Special Projects Director for The Origins Program. A long-time practitioner of the Developmental Designs
approach, he taught at the middle level for fourteen years. He also served as a principal in the St. Paul
Public Schools, where he was in school adminstration for ten years.
Posted June 2013
Read more posts from the Developmental Designs blog.