When I was a young adolescent, people said "It's just a game" when I felt that I didn't play well, or my team lost, or someone didn't play by the rules. It was disheartening to hear that from a well-intentioned adult who was attempting to help me not take it so seriously. To me, it was not just a game—it was life.
Now, as an adult and educator, I wouldn't think of using that phrase! In theDevelopmental Designs approach, one of our key practices is the Power of Play. Teachers who implement the approach use play to build community, enliven learning, and keep students focused on tasks. In Developmental Designs workshops, participants learn several game activities to take back to their classrooms. Access the rules and instructions for dozens of games with academic and social themes.
In recent years, much has been written about "gamifying" the classroom as educators use elements or traits of videogames that children find so appealing. I found more than 25 identifiable game elements while reading about gamification, like leveling, community collaboration, blissful productivity, and epic meaning.
Leveling allows learners to play competently. They complete tasks that have the right amount of difficulty for them and help them progress to the next stage of the game. Teachers can choose games that progress from simpler to more complex versions, such as Group Juggle, where a group of students work together to pass a ball around a circle. Players can progress to more complex variations, including using more balls, reversing directions, and one-handed catching. Students enjoy mastering a level of the game, and they enjoy coming up with their own levels of difficulty.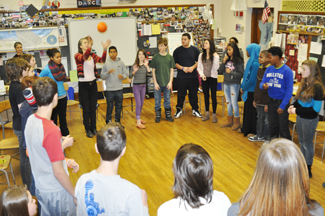 Community collaboration allows game players to use community knowledge: players devise strategies and tactics, and use social media to share results. Trust- and team-building activities such as All Hit Moonball are excellent for having students talk with each other to achieve success: players collaborate to keep a beach ball in the air as long as possible.
Blissful productivity is the pleasure of working hard at something meaningful and rewarding. To help build community and give students physical activity, take them outside to play challenge games that require physical and mental work. For example, "strand" half of the class on one side of an area, and have the others "rescue" them, coping with with a series of obstacles, such as hopping on one foot or having to remain in touch with a "safety rope" at all times. These types of games engage and refresh students because the challenge is exciting and the goal requires hard work.
Finally, epic meaning—achieving something awe-inspiring. OK, maybe adolescents don't think conquering a challenge game is exactly awe-inspiring, but they do pronounce it "awesome!"
Good games are not just games—they really are life. Have you "gamified" lately?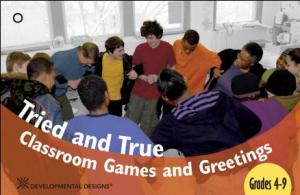 Gamify your group with 50 games and greetings that are "winners" according to teachers and students.
Erin Klug taught intermediate and middle grades in Minneapolis for more than a decade before taking a position as Professional Development Specialist and Consultant for The Origins Program.
Posted November 2013

Read more posts from the Developmental Designs blog.