Moving among the 7th graders in my classroom, I noticed something: in one girl's pencil box were several pencils, a sharpener, a protractor, and a tube of lipstick. There they were: the tools of a middle-schooler ready for math class and ready to quickly touch up her appearance.
The mixed collection reminded me of the conundrum of adolescence.
Middle-schoolers often find themselves caught between childhood and
adulthood. Pencil box supplies now quietly make room for the demands of
development.
In my blogs, I will consider the fascinating topic of adolescent development. What can current brain research tell us about our students' physical, social, and emotional needs? And what are the implications for our everyday practice?
In
addition to understanding our students, maybe we can help families
grasp why their children who used to want to hold their hands as they
crossed the street now want to be dropped off two blocks away from
school!
Beginning steps
One way to begin a conversation with families and/or colleagues is with the Child Development Pamphlets,
by Chip Wood, for middle-level students. Year by year, they identify
physical, social, emotional, and cognitive characteristics typical of
various ages in a concise format. For context, each pamphlet also looks
at the year prior to and the one that follows the one the pamphlet
focuses on.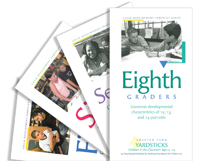 You could use the pamphlets in a gathering of families and/or educators this way:
Create groups of three to six educators according to the age of the child(ren) they will focus on. Have them read the relevant pamphlet and discuss one or more of the following questions:
Round 1:
Does the student seem to show most of the characteristics?
Which characteristics puzzle you?
Which characteristics have yet to emerge?
Do you have other concerns?
Round 2: What are the implications of these characteristics for adults when:
setting behavior expectations?
choosing an appropriate response to misbehavior?
setting limits on screen time and time with peers?
Learning
about the common developmental characteristics for the young
adolescents in our lives who are beginning to walk the bridge between
childhood and adulthood will help us guide them to balance freedom,
authority, and responsibility.
Scott Tyink has helped to design and facilitate Developmental Designs workshops, consulted in middle schools, and coached teachers for more than 10 years. For
14 years, he taught adolescents in grades 5 through 8. He co-organized,
directed, and taught in La Crosse, Wisconsin's first multiage
middle-level charter school, where he developed curriculum that
integrated arts and technology to inspire and challenge students.
Posted November 2013
Read more posts from the Developmental Designs blog.