Like many DD-trained teachers, I use take a break (TAB) in my
classroom liberally as a quick and quiet redirect for off-task behavior. Most of my sixth-graders follow our TAB protocol
correctly. And the question I often get
from other educators is how do I get students to view a trip to the TAB chair
as a tool rather than a punishment? This perception is a critical
factor in instituting TAB successfully.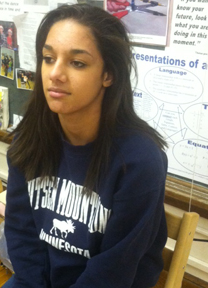 The way TAB is introduced and explained, the tone of voice
you use when using TAB, and other classroom climate factors play a large
role
in getting students to lessen the association they may have to the
penalty time-out they may be used to. I think the most substantial way
to
generate student buy-in is to demonstrate that the TAB chair, like other
tools
(rulers, calculators, etc.) will truly be
used by everyone in the class.
Even though we all have a wide divergence of students in our
classes, and some are on point far more often than others, I have yet to observe a
"perfect" middle-schooler. In fact, a young adolescent who is always 100%
focused and never makes a little mistake would scare me! I'd be thinking, "robot." And
since everyone errs occasionally and TAB is used for very small things, it
allows me to redirect everyone to the
chair.
When my struggling students see that my aces are sharing the chair with
them, it takes away some of the onus. People start to really believe that we are
working in a community where people are learning from mistakes rather than getting
in trouble.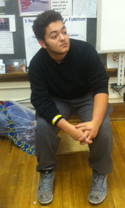 I encourage
everyone to make sure their TAB chair is used by all students in the class, and not becoming the regular hangout of two or three
frequent flyers. Seeing it is for all
will help it work well for many.

Eric Charlesworth is a sixth-grade mathematics teacher and advisor at Paul Cuffee Charter School in Providence, Rhode Island. Recently, he obtained principal certification. He has practiced the Developmental Designs approach in middle school for eight years.
Posted October 2013
Read more posts from the Developmental Designs blog.