The Developmental Designs approach brings everyday strategies for relationship building, social skill-building, safe community, cultural responsiveness, and intrinsic motivation to advisory, content area classes, and across the school, throughout the day.
Developmental Designs for Elementary School is a powerful collection of research-based teaching strategies and practices:
Build cultural understanding, reduce bias and encourage a strong inclusive classroom community
Trusting student-teacher relationships foster attunement and shared learning, creating reciprocal, culturally aware relationships
Focus on personalized learning provides students diverse ways to utilize their interests and strengths, inviting self-expression and critical inquiry
Engaged whole class learning with active and inclusive opportunities for creative learning together, maximizing academic and social growth
Encourage productive academic conversations between students
Cultivate self-regulation and responsible independence in children
Equitable Discipline
Increase the role of family engagement in student learning
Maximize the collective intelligence and collaborative potential of the adult community
Learn and practice using Community Circles.
" Developmental Designs has made me more intentional in my practices with students and families to make sure students and families feel valued and are able to engage with our learning environment optimally."
– Elementary-level teacher
WHY DEVELOPMENTAL DESIGNS?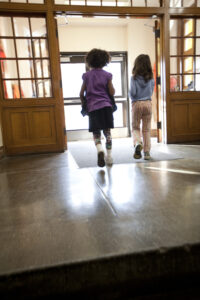 To create an equitable foundation for learning, certain conditions and experiences are necessary to meet the basic needs of children for autonomy, competence, relationship, community, play and safety.
When we base our practice on meeting these needs, we base our practice in equity. To meet these needs we provide educators practices to strengthen and maintain classrooms and schools where equity is a lived reality, creating a Zone of Proximal Development for ALL Learners.