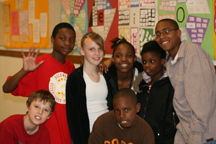 St. Louis Park
Middle School (SLPMS), in a first-ring suburb of Minneapolis, Minnesota, is a
vibrant middle school of about 1,000 sixth, seventh, and eighth graders. This
is their second year with sixth graders, after a district reorganization. Les
Bork has been the principal at SLPMS for much of his career. Mia Waldera, the
Professional Development Coordinator, is in her tenth year at SLPMS and has
played a large role in maintaining the presence of the Developmental Designs (DD) approach at the school.