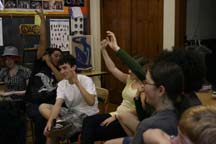 At the beginning
of last year, I noticed that some students transitioned into middle school
feeling intimidated, shy, highly sensitive, or moody, and they were hesitant to
engage in our homeroom community. I wanted the new, mostly sixth grade,
students to be fully in advisory. I believed if they became familiar with a
predictable homeroom routine and were given time to practice what we did, engagement
would increase. The Circle of Power and Respect (CPR) advisory meeting would be
our routine.