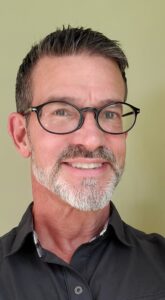 He/Him
Middle School Developmental Designs Facilitator
Minnesota
Steve Hasti has been a proud presenter of Developmental Designs for the Origins Program since 2007. He is dedicated to building strong learning communities and creating engaging lessons for all students. He has worked for Minneapolis Public Schools since 2000 as a middle school classroom teacher for ELA and Social Studies. For the past 6 years he has served as a mentor and coach for new teachers in his district. He is a life-long learner and constantly working to better understand his own privilege and actively pursue anti-racist, anti-bias approaches to education.
He graduated from the University of Minnesota with a Master's degree in Education in 2006. He is a lifelong Minneapolis resident and a father of two amazing sons. His family's passions are recreating outside as much as possible and playing music whenever they get together.