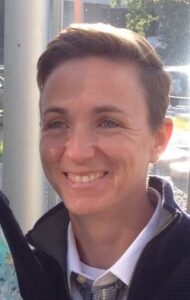 She/They
High School Developmental Designs Facilitator
Wisconsin
In addition to being a Developmental Designs facilitator for Origins, Jocelyn Lepinski is also an Assistant Principal at Madison East High School in Madison, WI. Prior to being an Assistant Principal, she has been a Positive Behavioral Support Coach, an Instructional Coach, and a Social Studies teacher. She began their career working in an alternative school setting with 9th and 10th graders and thus began their career and love of creating and developing classrooms that support and care for all students — especially those that others find hard to reach!
She grew up in Stevens Point, WI and attended undergrad at the University of Wisconsin-Madison. Following graduation from the UW, she spent two years working at Culver's Restaurant and was lucky enough to be the General Manager of a store that was built from the ground up where she got to help hire, design, create, and manage an entirely new team! After that, she earned their Master's Degree in Social Work from the University of Wisconsin, a teaching license from Concordia University, and eventually admin license from Viterbo University. In between all these degrees and licenses, she had a thousand different life experiences from working at Epic Systems to having two children to being a self-taught home remodeler who has a hard time saying no to being a foster parent to various kittens and cats! She shares their house with their wife, two children (16 and 11), two dogs, four cats that are theirs, one cat that they fostered that will not leave, and two more fosters who are currently in need of a home!